THE PASTEL ASSOCIATION OF ONTARIO
Ten years ago a small group of pastel artists in southern Ontario centred in the Burlington area came together through their joy in working with pastel as a dry medium. Beginning with 10 members with a goal to educate and promote dry pastel as a fine art medium, they have now grown to over 200 active members.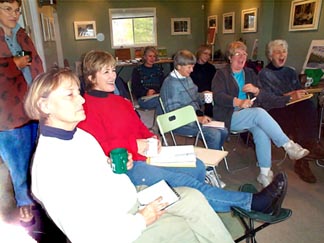 Artists enjoying themselves as they learn from Margaret Evans.
This past November, The Pastel Association of Ontario enjoyed a tremendous workshop with international instructor Margaret Evans of Scotland. Held at the Ontario Conservation Area, the location was uniquely suited for the workshop with lakes and trails nearby, the Native Canadian archeological site and the authentically resconstructed Long Houses of the Crawford Lake providing subjects.
In October 2002 POA will host Richard McDaniel, renowned pastel instructor from California at the Bridgewater Retreat in Tweed. Their Spring Painted-Out workshop is also booked at the Bridgewater for the second week-end in June, 2002.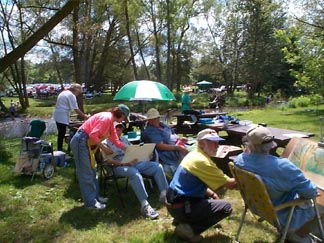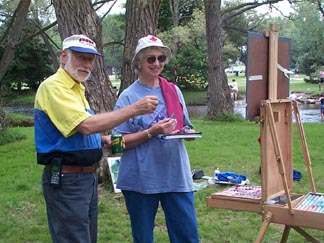 The June, 2001 graphics/PAO workshop in Lowville with Joseph Cullen, Instructor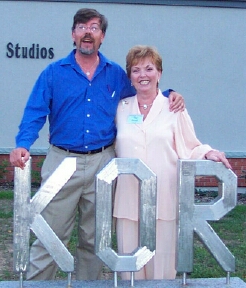 David Parson, First Place Winner, The August 2001 Open Juried Show at the KOR Gallery in Kitchener (Gallery manager is also pictured)
While graphics/PAO Canada primarily serves the province of Ontario they include members from across Canada and even internationally. Contact is maintained through the internet and their quarterly newsletter Purely Pastel. The newsletter is also available online at the association's website. The purpose of the graphics/PAO is to provide services such as workshops and an annual show for the benefit of their members as well as promoting dry pastel as a fine art medium equal in stature to other fine art mediums such as oil, acrylic and watercolour.
Contact The Pastel Association of Ontario at rsimpson59@cogeco.ca
The graphics/PAO also has a presence on the Web at www.pastelartists.com
ECUS, Hanemühle & Velke Losiny Papers are available in Canada from OPUS Framing & Art Supplies (800) 663-6953